By ⁠Dr. Brandon Colby MD, a genetic testing expert specializing in advanced genetic analysis and clinical genomics.
Promethease is a genome health reporting website that uses a literature retrieval system. It was launched in 2008 and was set up on the SNPedia wiki site. ⁠MyHeritage acquired ⁠promethease and SNPedia wiki in 2019.
What Is SNPedia?
SNPedia is an extensive research library that helps users understand their genetic variants. It has a wiki database of single nucleotide polymorphisms (SNPs). The library contains information on more than 100,000 gene variants. Every entry is selected based on peer-reviewed scientific research and genetic information.
Since it is a 'wiki' database, it's similar to Wikipedia, which means anyone can add and modify information. While a lot of the information in SNPedia is accurate, I have found numerous inaccuracies. So it's always good to verify important information with other resources.
About Promethease DNA Site
The Promethease DNA site offers a DNA analysis service. It does not offer DNA testing services, DNA ancestry, ethnicity, or family tree making features. ⁠MyHeritage, the company that owns promethease, requires a person to use myheritage.com for all genealogy purposes.
The site only offers the analysis of genetic information through scientific findings.
The site depends on users' raw DNA data files. It is one of the most popular places for DNA uploads.
The site allows DNA uploads from genetic testing companies:
Promethease DNA offers a health report, which is their claim to fame. The detailed report details information based on academic research from SNPedia.com.
The site builds its reports by identified relationships between users' gene variants and health traits. The Promethease report includes:
Brief description
Biology details
Medical assessment
The report can be used to support medical history and identify genetic health risks.
Users love to be able to go to the scientific studies that relate to their results in their report by simply clicking on a link. The study information shows how a certain genetic variant has been analyzed to show a mutation or possible genetic trait, disease, etc.
Promethease DNA: Free DNA Upload Site?
⁠Promethease DNA is not a ⁠free DNA upload site. It costs $12 to upload DNA and use their analysis service.
The service is fast, though. Most people receive their report in less than 10 minutes.
While the DNA site doesn't offer discounts, it does offer a promotion on multiple raw data files. The first upload is $12 and each report after that is $4.
Unlike Sequencing.com, promethease doesn't store your DNA data files. So while you can upload your DNA data to promethease, there's no way to access or download your data from promethease.
The Promethease DNA Report
Everyone who uses the Promethease DNA site has already had a DNA test from ⁠Ancestry.com, ⁠23andMe, ⁠MyHeritage and Family Tree DNA (⁠FTDNA). Uploading genetic data to the site helps people collect more health information about themselves along with understanding how their family history has influenced their genes.
The site recommends that anyone who receives one of their reports review it with their doctor or a genetic counselor. The site does not offer genetic counseling services, though.
Below is a Promethease DNA sample report: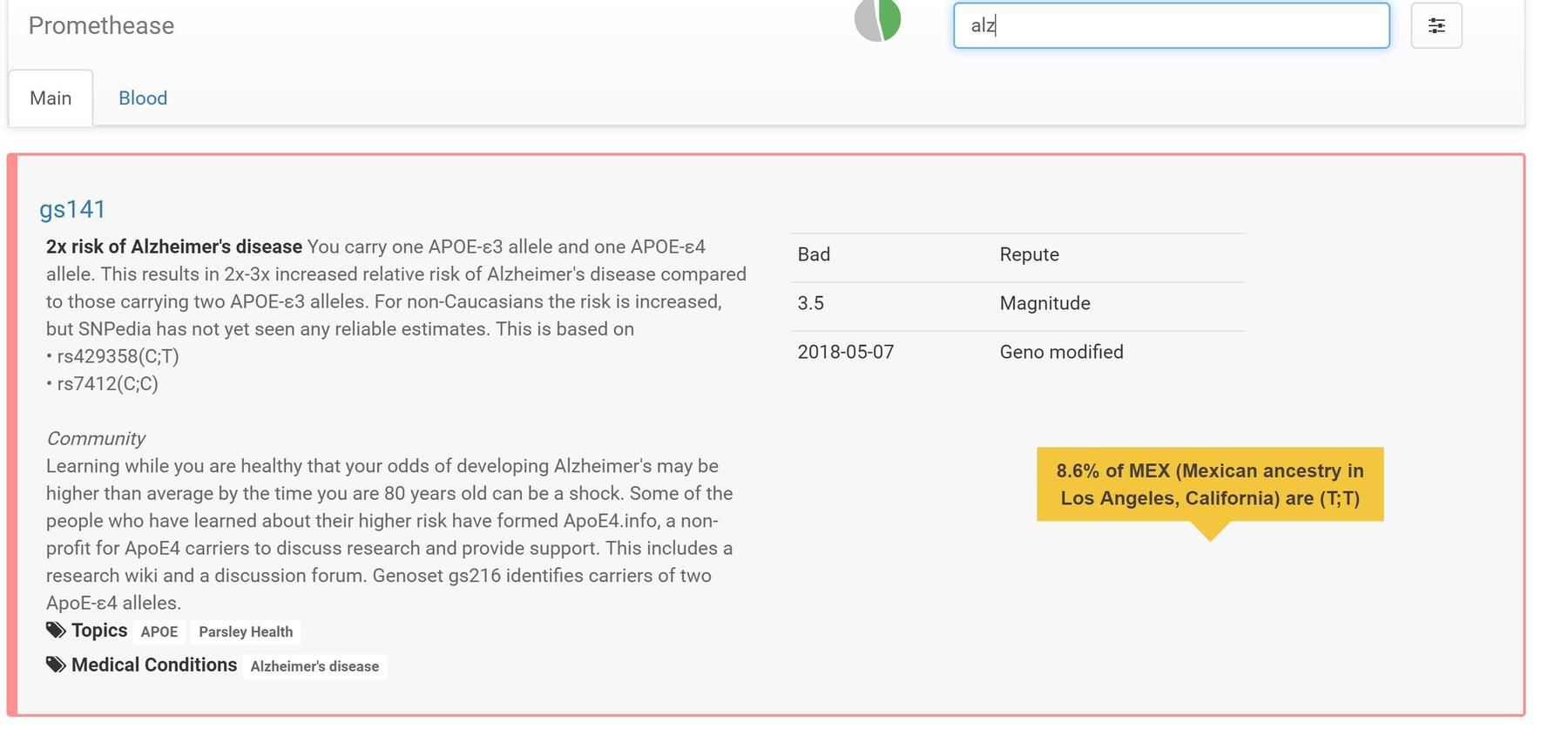 As you can see in the report, the person has an increased risk for ⁠Alzheimer's disease. There is then research that explains why. If the case was that the person had an increased risk of Alzheimer's the research would explain the result as well.
The site offers information on many different ⁠genetic diseases, including ⁠breast cancer (BRCA gene)⁠, ⁠heart disease, and many others.
How to Upload DNA to Promethease.com
Uploading your DNA data to Promethease is simple:
Go to ⁠promethease.com
Agree to the privacy and terms on their webpage and then scroll down.
You can either import the data by providing a URL or you can upload your raw DNA file.
They accept files from:
23andMe
Ancestry
FamilyTreeDNA
MyHeritage
Illumina GenomeStudio
Genos
(g)VCF files from exome and WGS (⁠whole genome sequencing)
You can learn more about the upload process by watching this tutorial video:
Sites Like Promethease
Promethease DNA is an interesting site for limited DNA analysis. If you're interested in alternatives to promethease, check out Sequencing's ⁠DNA App Store. The DNA analysis apps available at Sequencing add value to your DNA test by analyzing your DNA data for many different traits and diseases.
Most of the information provided by apps in ⁠Sequencing's DNA App Store is not available from Promethease DNA, so you may want to consider using both services.
Upload Your DNA Data For Free
There are also other sites you can upload your DNA data to for free. Similar to promethease and Sequencing.com, these sites provide different ways to analyze and learn from your genes.
When Promethease's Report Is Incomplete
When using Promethease or Sequencing.com with DNA data from 23andMe, Ancestry or MyHeritage, you' may find that some of the information in the reports are missing. This is because many of the more popular DNA testing companies do not test enough of the genome to provide the data needed for a comprehensive analysis. For example, 23andMe and Ancestry.com test less than 0.1% of the genome.
This is why we offer two much more in-depth DNA testing options with our ⁠Ultimate DNA Test and Whole Genome Sequencing service.
The Ultimate DNA Test is our basic test but it tests much more of the genome than other DNA testing companies do - check out our DNA testing company comparison for more information.
The ⁠whole genome sequencing service is the only genetic test that tests 100% of your genome. It is all the DNA data you need to learn about your genetic makeup now and in the future. This service is the one that many people decide on when they discover how valuable genetic data can be for personalizing the prevention of disease.
It's time to step into the world of genetics, so you can learn more about yourself and your family history. It's information you will use over and over again throughout your life.
---
About The Author
⁠Dr. Brandon Colby MD is a US physician specializing in the personalized prevention of disease through the use of genomic technologies. He's an expert in genetic testing, genetic analysis, and precision medicine. Dr. Colby is also the Founder of Sequencing.com and the author of ⁠Outsmart Your Genes.
Dr. Colby holds an MD from the Mount Sinai School of Medicine, an MBA from Stanford University's Graduate School of Business, and a degree in Genetics with Honors from the University of Michigan. He is an Affiliate Specialist of the American College of Medical Genetics and Genomics (⁠ACMG), an Associate of the American College of Preventive Medicine (⁠ACPM), and a member of the National Society of Genetic Counselors (⁠NSGC).