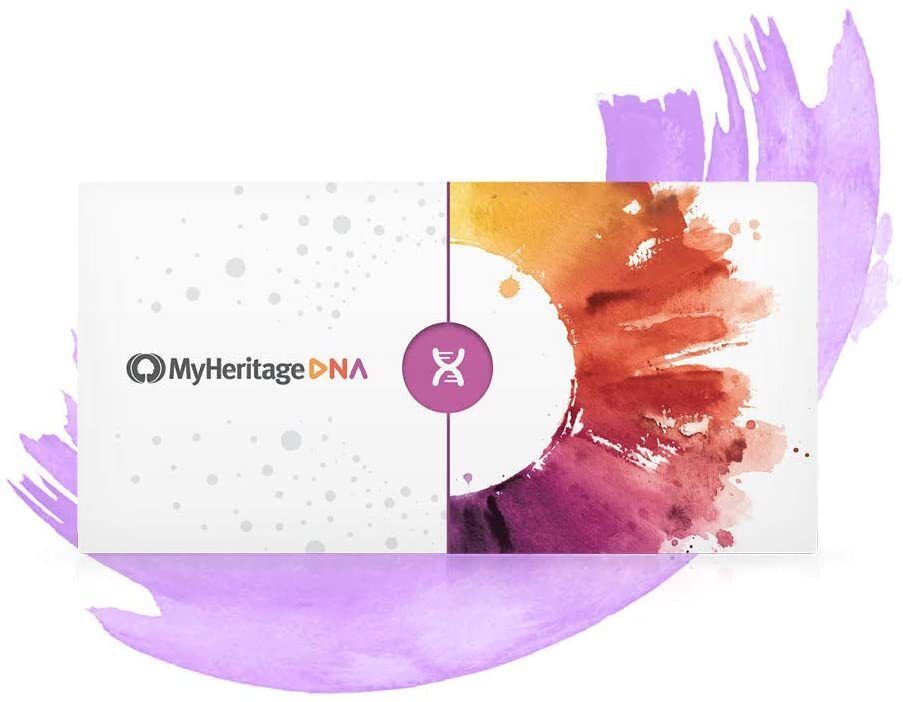 By ⁠Dr. Brandon Colby MD, a physician-expert in the fields of genomics, DNA analysis, and genetic testing technologies.
Due to the growing popularity of direct-to-consumer DNA testing, it's very easy to find many testing providers online. However, you should do some research before choosing to spend your money and share your genetic data with any company.
If you perform a quick Google search looking for popular ancestry DNA tests, MyHeritage will probably be at the top of the page, along with other well-known companies such as Ancestry.com (AncestryDNA), FamilyTreeDNA, 23andMe, and Living DNA.
Although the services that these companies provide may sound similar, each company has different features that you should take into consideration. What does MyHeritage DNA offer to its users? Let's find out.
What is MyHeritage?
Founded in 2003 by Israeli entrepreneur Gilad Japhet, MyHeritage is a genealogy platform that offers web, mobile, and software products online.1
Initially, MyHeritage worked as a desktop program where users could upload genealogical data to build their own family tree and connect with family members. Then, the company launched its own website where MyHeritage users could upload their DNA data online in order to perform a more exhaustive family history research.
MyHeritage uses a "freemium" business model, meaning that users can create a profile for free, but they won't be able to use certain features unless they pay for a premium subscription.
In 2016, the company launched MyHeritage DNA, which sells direct-to-consumer ⁠ancestry DNA tests and offers DNA matching and ethnicity estimates. Their tests are mainly used for genetic genealogy purposes. The company also offers some health tests — however, health reports aren't available to users from certain locations, such as Israel, France, New York, New Jersey, Spain, Austria, Norway, and Switzerland.2
Today, the service has more than 1 billion profile users, and its platform has been used to create more than 52 million family trees. The company operates a website, mobile apps, and desktop programs.
Security issues
It's important to note that the MyHeritage website was hacked and suffered a significant security breach in June 2018, during which the data of over 92 million users was leaked. This breach exposed the user's email addresses and passwords. Fortunately, the platform stores genealogical information separately, and thus, this information wasn't included in the leaked data.3
However, it's still important to keep possible security and privacy issues in mind when you're trying to choose a genetic testing provider.
What You Get in a MyHeritage DNA Test Kit
MyHeritage DNA kits are shipped worldwide — you can order the test online, take your DNA sample at home, and then simply wait until you receive your test results.
Testing kits include vials to collect your sample, cotton swabs, and an envelope to mail the samples back to the company. To collect the sample, you simply need to perform a cheek swab on both cheeks and then place the swabs inside the vials.
The company offers basic testing for $79 plus shipping, although lower prices are sometimes ⁠available during sales. Meanwhile, their health and ancestry test costs approximately $200. The kits can be ordered directly through their website or ⁠through third-party websites, such as Amazon.
MyHeritage DNA Test Review
Interested in learning more about MyHeritage? While this section provides a concise overview, if you're looking for more, our expert ⁠MyHeritage Review provides extensive insights and useful information about MyHeritage's services, including their DNA test and family finder tools.
Depending on the type of test that you choose, your sample will be analyzed to provide an ancestry report and ethnicity estimates with or without health insights. If you've already taken the ancestry test, you can also pay for an upgrade that will show you your health results.
MyHeritage's health test features 42 health reports, including genetic risk reports that determine your likelihood of developing certain diseases, including:
The test also provides ⁠carrier status reports, which will inform you of whether you carry genes for certain hereditary diseases.
The company has its headquarters in Or Yehuda, Israel, and most of its users live in Europe. As a result, its 4,500,000 million people database is largely composed of individuals with European ancestry, despite the fact that the kits can be shipped worldwide.
This can make it more difficult to obtain accurate DNA genealogy results if you have Native American, Asian, African, or Latin American ancestry. MyHeritage test results have also been found to overestimate English ancestry for people with continental European ancestors. Additionally, the results don't specify the exact root of certain ethnic origin estimates — for example, it's hard to distinguish between Irish and Scottish descent.
What techniques does MyHeritage use to analyze DNA?
MyHeritage only uses microarray-based autosomal DNA testing to analyze raw DNA data, and it doesn't offer mitochondrial DNA (mtDNA) nor Y-chromosome DNA (Y-DNA) testing.
Autosomal DNA (atDNA) testing analyzes 22 autosomal chromosomes or autosomes, which aren't linked to sex, and also the X chromosome. Although atDNA testing is usually considered to be sufficient for a basic ancestry test, it also has its downsides.
Autosomal DNA is inherited from both our parents — however, genetic inheritance follows a random pattern that makes it difficult to establish just how much DNA you inherited from each of your ancestors. As a result, it may not be possible to determine the exact degree of genetic linkage between DNA matches found through atDNA testing.
This type of testing doesn't sequence your entire genome, which means that it could miss significant genetic variants that could affect your health or provide important insights into your ancestry.
MyHeritage laboratories are CLIA-certified (CLIA stands for Clinical Laboratory Improvement Amendments), which signifies that their technicians have certain qualifications. Although accurate, MyHeritage only tests for single nucleotide polymorphisms (SNPs), which excludes other types of genetic findings, such as:
Insertion-deletion variants (INDELs)
Copy number variations (CNVs)
Mitochondrial heteroplasmy (MITO)
Structural variations (SV)
Testing mtDNA and Y-DNA can provide additional information that makes ancestry results much more reliable and precise. mtDNA testing examines your maternal line with a high degree of accuracy since mitochondrial DNA is usually passed down from mother to child without any genetic variations.
Y-DNA, on the other hand, can be used to accurately analyze your paternal line. Since women don't inherit a Y chromosome from their parents, this type of test can only be performed in males. However, women who want to learn more about their paternal family can enlist the help of a male relative to get tested.
Although $79 may not seem expensive for a test from a well-known DNA testing company, you can also get more comprehensive DNA tests from other companies at lower or similar price points.
At Sequencing.com, we offer ⁠the Ultimate DNA Test for just $69 — this test uses DNA sequencing to obtain data from all your chromosomes. This test analyzes approximately 30 million genetic variants, whereas MyHeritage only tests around 700,000 SNPs.4 
Sequencing.com's Ultimate DNA Test includes data obtained from all your chromosomes, including autosomes, mitochondrial chromosomes, and the Y-chromosome (for males). It analyzes approximately 50 times more data than ⁠other popular DNA ancestry tests. This test provides thorough information surrounding your health and ancestry.
And if you're looking for an even more comprehensive test, you may be interested in our ⁠Ultimate Sequencing Test. At $399, it's just a few hundred dollars more expensive than other health and ancestry tests — but unlike other tests, the Ultimate Sequencing Test uses ⁠whole genome sequencing (WGS) to sequence each and every one of your DNA's base pairs.
DNA results obtained through WGS will provide invaluable data regarding your health, ancestry, ethnicity, wellness, lifestyle, reaction to medications, and ⁠nutrition, among others.
You can also download your raw DNA data from MyHeritage and ⁠upload it to other platforms, including:
Sequencing.com

Includes the new ⁠Relative Finder DNA app, which is free to use and allows you to identify long lost family members.

FamilyTreeDNA

Living DNA

WikiTree

GEDmatch

Promethease
Users can also upload data from other DNA tests to the MyHeritage platform; however, once you upload data from other providers to MyHeritage, you won't be able to download that data again.
MyHeritage Family Tree Builder for Genealogical Research
The Family Tree Builder is a downloadable desktop and mobile program that can be used to research family history and build a family tree. The service uses different algorithms and technologies, such as Smart Matching and Search Connect, to find DNA matches between users in order to help them find new relatives.
In addition to its genetic testing services, MyHeritage also offers a large database of genealogy documents that can be used to complement your ⁠genetic genealogy research. These documents include:
Census records
Birth certificates
Marriage certificates
Death certificates
Inmigration documents
Military service records
Historical newspapers
However, it should be highlighted that only premium users with a paid subscription can contact other users through the platform. You also need a premium account to access full historical records or confirm familial relationships.
---
About The Author
⁠Dr. Brandon Colby MD is a US physician specializing in the personalized prevention of disease through the use of genomic technologies. He's an expert in genetic testing, genetic analysis, and precision medicine. Dr. Colby is also the Founder of Sequencing.com and the author of Outsmart Your Genes.
Dr. Colby holds an MD from the Mount Sinai School of Medicine, an MBA from Stanford University's Graduate School of Business, and a degree in Genetics with Honors from the University of Michigan. He is an Affiliate Specialist of the American College of Medical Genetics and Genomics (⁠ACMG), an Associate of the American College of Preventive Medicine (⁠ACPM), and a member of the National Society of Genetic Counselors (⁠NSGC).