Want to be as lean and fit as your favorite celebrity but also keep your day job? Learn how best to dedicate your limited time for maximum results with this genetic analysis.
$59
per genome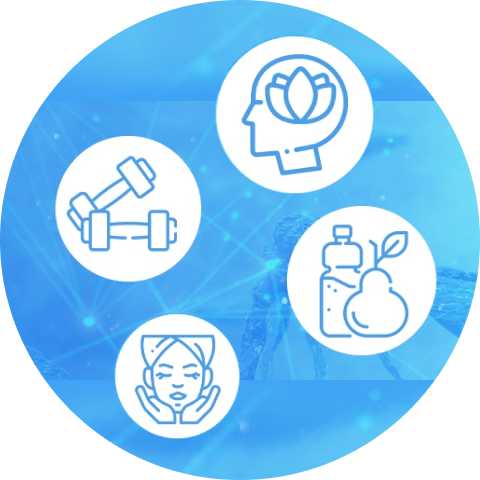 Get 100% of your DNA data with Whole Genome Sequencing.
Already have data from a DNA test? Upload your data for free.
Lean and Fit: Use Your DNA to Optimize Your Physique
Learn your optimal combination of exercise, nutrition, psychology and skincare to achieve your best.
Empowering guidance for losing weight and looking great.
Lean and Fit provides a gene-based assessment that includes:
Addictive Personality
Aerobic performance
Bitter Taste Sensitivity
Caffeine Metabolism Impairment
Carb Overconsumption
Collagen Breakdown
Endurance
Exercise Benefits for Maximal Oxygen Uptake Response
Exploratory Behavior
Fat Overconsumption
Fat Taste Perception
Grass Allergy Resistance
Histamine Intolerance
Joint Flexibility
Joint Injury Risk
Lean Body Mass Potential
Low Protein Intake Risk
Low Resting Metabolic Rate
Low Vegetable Intake
Low-carb Diet Effectiveness
Low-fat Diet Effectiveness
Mediterranean Diet Effectiveness
Monounsaturated Fats Increased Benefits
Muscle Damage Risk
Muscle Response to Resistance Training
Muscle Strength Loss
Muscular Strength
Optimism
Overall Fitness Benefits
Overall Tendon and Ligament Injury Risk
Overweight Potential
Polyunsaturated Fats Increased Benefits
Power
Protection from Skin Cellulite
Satiety Impairment
Sensitivity to Sun
Skin Stretch Marks
Slow Muscle Repair
Sociability
Starch Metabolism
Sweet Tooth
Related Reports
Explore more of our health & wellness reports for your personalized guidance.
Basic Wellness
Learn about which of your genetic variations contribute to your body conditions, from diet to exercise related to your weight.
$4.99
Vitamin Balance DNA Report
DNA-based Guidance For Optimizing Your Vitamins. Which vitamins are important for you to take? Which may not be helpful? Are you at risk for vitamin deficiencies?
$29.99
Athletic Training Pro
Use your DNA to achieve maximum athletic skill. Receive a personalized genetic report for optimizing your fitness and training.
$59